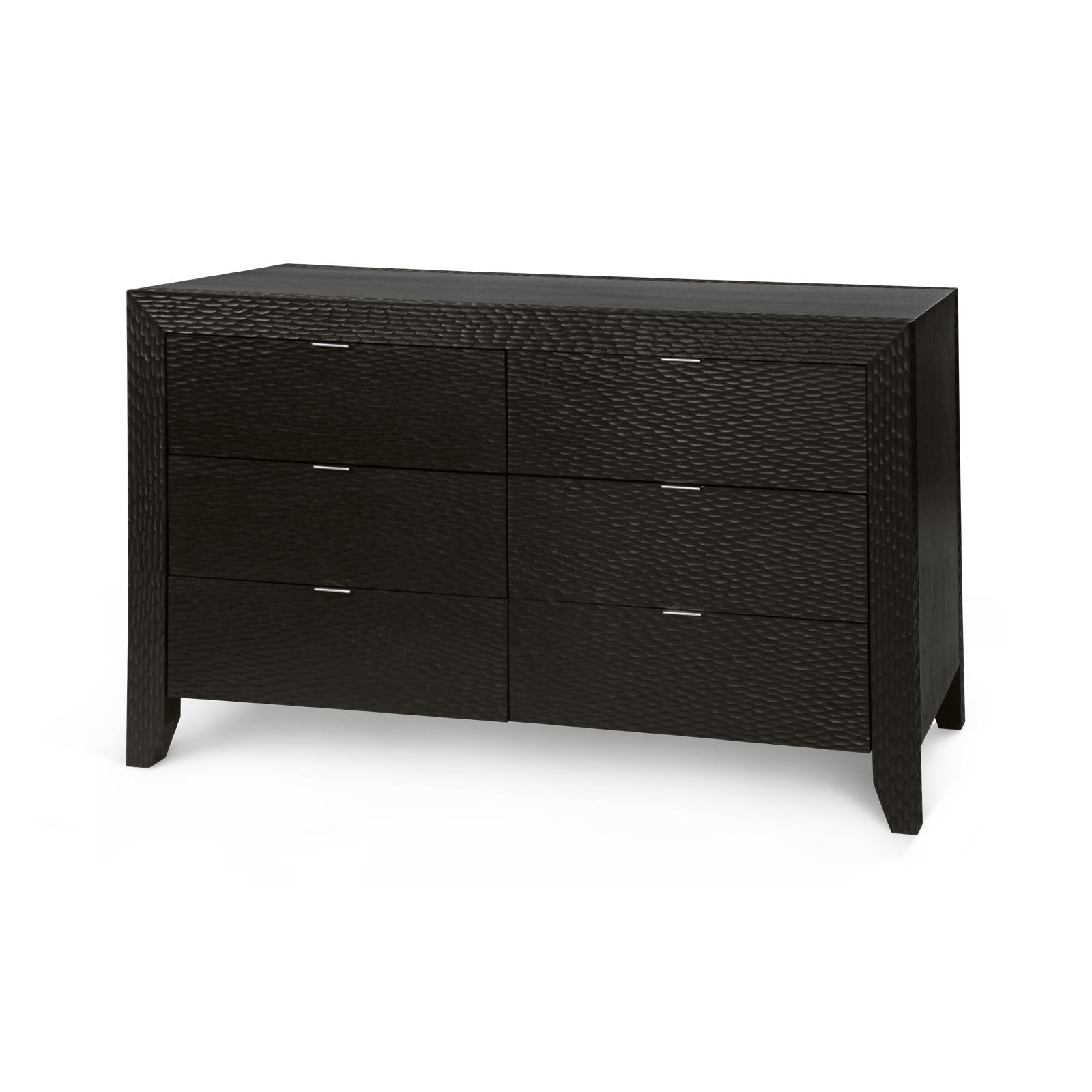 MASON EXTRA LARGE 6-DRAWER, BLACK
The Mason design combines dual mahogany surfaces to create a modern-primitive collection with beach house appeal and instant soul. One surface features hand-chiseled, open-grain mahogany elements that surround chiseled drawers before tapering into textured legs. The other surface is smooth mahogany on the Mason's top and sides. The design is leavened with low-profile chrome pulls.

Product Details: Lacquered Mahogany and Veneers, Chrome Finish Edge Pull.
Status: Limited Stock: Next Available: Final Stock
Additional:



PULL-MSN-88


Sample-825-91C
---
Bungalow 5 products are hand-crafted by artisans who use natural materials and heritage techniques to deliver incredible quality, authenticity and value. These unique, beautiful products have slight variations that are hallmarks of the material used and craftspeople who create them. Products may contain natural variations like knots, graining or signs of an artist's hand—which we believe contribute to uniqueness and desirability. Material characteristics or maker's marks are not defects.
Our items come from different producers in different countries, so all colors may not match across lines: for example, the shade of white in one collection may be creamier or brighter than the shade of white in another collection. Additionally, we continuously improve the design, make, and finish of our products. Therefore, items from different production runs may vary slightly. To match a previously ordered piece, please check this website to confirm dimensions have not changed. Next, call customer service to inquire whether more pieces from the same lot are available.
Note that products are not food safe and decorative containers do not hold water unless specifically described as such. Most large cabinets are drilled for wiring. Currently, smaller, side cabinets are not drilled. Many chairs are simple to re-cover with your own COM fabric. Chairs with drop-in linen cushions require 1/3 yard. Other upholstery styles need to be estimated by your upholsterer.
We try very hard to supply tools that help customers envision products as they will appear in your home. However, photographs are approximations and colors vary on different monitors and printers.