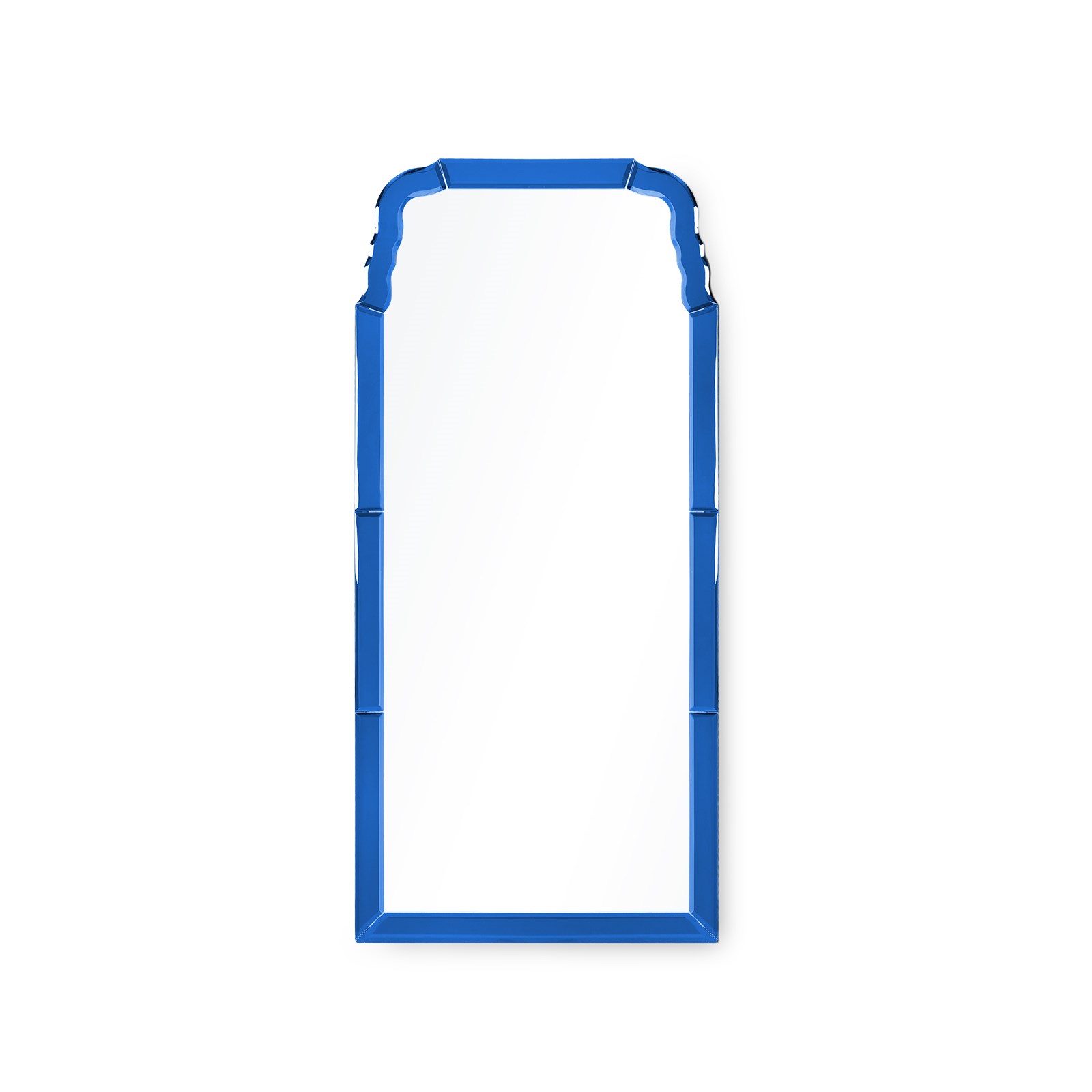 GABRIELLA MIRROR, SAPPHIRE BLUE
The Gabriella Mirror is a modified Queen Anne style in cornflower blue and clear beveled mirror. The frame tapers as it rises toward a sculpted, keystone top. Bold color and line push this traditional style away from its English roots toward Continental deco style you might see from a French master like Serge Roche or later from the Italians at Fontana Arte.

Product Details: Mirrored Wood, Unframed with D-Rings Installed for Vertical Hanging.
Status: Out of Stock: Next Available: Early Sep
---
Bungalow 5 products are hand-crafted by artisans who use natural materials and heritage techniques to deliver incredible quality, authenticity and value. These unique, beautiful products have slight variations that are hallmarks of the material used and craftspeople who create them. Products may contain natural variations like knots, graining or signs of an artist's hand—which we believe contribute to uniqueness and desirability. Material characteristics or maker's marks are not defects.
Our items come from different producers in different countries, so all colors may not match across lines: for example, the shade of white in one collection may be creamier or brighter than the shade of white in another collection. Additionally, we continuously improve the design, make, and finish of our products. Therefore, items from different production runs may vary slightly. To match a previously ordered piece, please check this website to confirm dimensions have not changed. Next, call customer service to inquire whether more pieces from the same lot are available.
Note that products are not food safe and decorative containers do not hold water unless specifically described as such. Most large cabinets are drilled for wiring. Currently, smaller, side cabinets are not drilled. Many chairs are simple to re-cover with your own COM fabric. Chairs with drop-in linen cushions require 1/3 yard. Other upholstery styles need to be estimated by your upholsterer.
We try very hard to supply tools that help customers envision products as they will appear in your home. However, photographs are approximations and colors vary on different monitors and printers.